About Paul Bremmers Antiquariaat
Paul Bremmers Antiquariaat is situated in the centre of Maastricht, a lovely city in the very south of The Netherlands, right between Brussels and Cologne. We participate in several fairs in Europe such as the Antiquarian Book and Print Fairs in Amsterdam, Paris, Mechelen and Maastricht. Dealers throughout the world find their way to our store to replenish their stock. We are specialized in Antique Maps, Atlases, Townviews and decorative Prints from the 16-the century up to the 19-th century. In our catalogue you can find an impression of our stock. Don't hesitate to contact us by e-mail or by phone.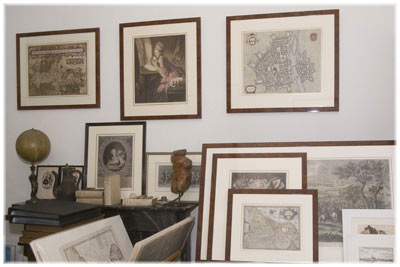 We try to update this website as frequently as possible. The maps and prints in this cataloques are authentic. We try to give a good impression of the objects by showing an accurate description and a picture which shows you the real colours and the present condition.
If, by any means, the object is not fully to your satisfactory, please use our return policy.
Of course we are interested in buying Antiquarian Objects. All inquiries are treated with strict confidence. If there are any questions, please contact us by mail or phone.


The company is a member of the ILAB (the International League of Antiquarian Booksellers)
and of course the NVvA (de Nederlandsche Vereeniging van Antiquaren)
We will take questions and provide answers in English, German and Dutch, by mail and telephone..
Wir bemühen Uns Ihre Fragen, in der Deutsche Sprache zu beantworten.
Natuurlijk kunt u uw vragen, per mail of telefonisch, gewoon in het Nederlands stellen.
Back to Top